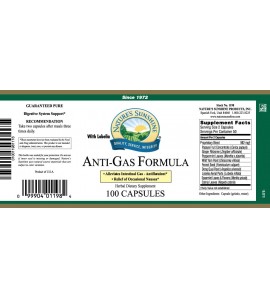 Anti-Gas Form. w/Lobelia (100 Caps)
Stock no. 1198
Our traditional formulation contains nine herbs, including lobelia, to aid in digestion and assist in gas expulsion.


Benefits:
Supports digestion
Assists the body in expelling intestinal gas.
May help calm occasional nausea.
How It Works:
Papaya fruit contains enzymes that help with digestion. Ginger helps to settle and soothe the stomach and allay occasional nausea. Peppermint is a carminative and helps to drive gas out. Catnip and fennel support digestion.
Ingredients:
Papaya fruit concentrate ginger rhizome peppermint leaves wild yam root fennel seed dong quai root lobelia aerial parts spearmint leaves and flowers and catnip leaves.
Recommended Use:
Take 2 capsules after meals three times daily.
30 other product in the same category