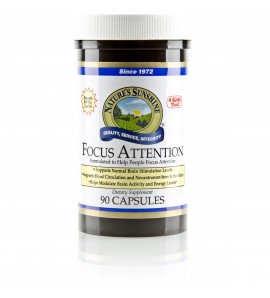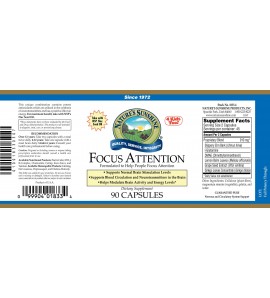 Focus Attention (90 Caps)
Stock no. 1833
Focus Attention provides nutrients that help maintain normal brain-stimulation levels while supporting blood circulation and neurotransmitter levels in the brain.


Benefits:
Provides important nutrients for normal brain-stimulating levels.
Helps modulate brain activity and energy levels.
Supports the nervous system nutritionally.
Encourages restful balanced mental activity.
Supports blood circulation and neurotransmitters in the brain.
How It Works:
Focus Attention is a special formulation of herbal nutrients that help protect the body from undesirable side effects caused by drugs or exposure to toxic chemicals food additives pesticides etc. Focus Attention combines powerful nutrients required for quiet balanced mental activity.
Slippery elm aids nutrient absorption and is used as a soothing and cleansing herb for the digestive system. The amino acid l-Glutamine supports healthy brain activity and mental ability. DMAE is a biodynamic nutrient used for memory and learning enhancement. It also quenches damaging free radicals. Lemon balm leaves have been approved by the famous German Commission E for their ability to soothe the nervous system. Grape seed extract is high in proanthocyanidinshighly active compounds that can readily neutralize brain-damaging free radicals caused by toxins or over-stimulated brain metabolism. Ginkgo biloba is well known for its support of brain and circulatory health.
Ingredients:
Slippery elm bark l-glutamine DMAE (dimethylaminoethanol) lemon balm leaf extract grape seed extract and ginkgo leaf extract.
Recommended Use:
Over 12 years:Take 2 capsules with a meal twice daily. Age 612 years:Take 1 capsule with a meal twice daily. Under 6 years:Consult your health care professional.
NOTE: Pregnant or lactating women or anyone taking prescription medication should consult a health care professional prior to use.
30 other product in the same category