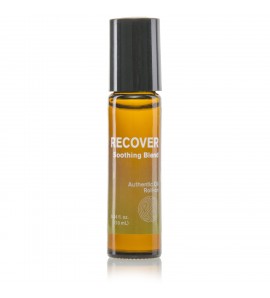 RECOVER Soothing Blend Roll-On (10 ml)
Stock no. 21581
Give your muscles some R&R with RECOVER Soothing blend. Contains notes of Wintergreen, Camphor and Rosemary.


Benefits:
Apply to muscles after a long workout or athletic event
Convenient targeted application whenever needed. Perfect for gym bags!
Mix with Hand & Body Lotion for a cooling soothing balm
Features a 1:1 ratio of Recover Soothing Blend and NSP Carrier Oil
How It Works:
RECOVER is an intense frosty-then-warming blend of bold wintergreen with peppermint camphor and other efficacious oils that is both penetrating and soothing
Ingredients:
100% pure essential oils of Gaultheria procumbens (Wintergreen) leaf Cinnamomum camphora (White camphor) wood Rosmarinus officinalis (Wild Rosemary) leaf Melaleuca cajuputi (Cajeput) leaf Abies sibirica (Fir) needle Eugenia caryophyllata (Clove) bud Helichrysum angustifolium (Helichrysum) flower Juniperus communis (Juniper) berry Mentha piperita (Peppermint) leaf & flower Boswellia carteri (Frankincense) gum resin blended in a 1:1 ratio with Natures Sunshine Carrier Oil.
Recommended Use:
Apply directly to muscles legs or the bottom of the feet
5 other product in the same category