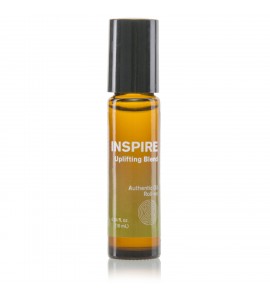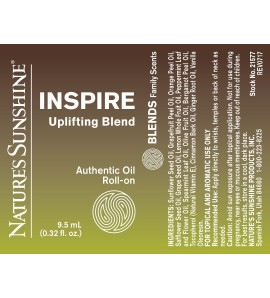 INSPIRE Uplifting Blend Roll-On (10 ml)
Stock no. 21577
Hold the coffee. Let this be your morning wake-up call. Contains notes of Citrus, Mint and Spice.


Benefits:
Whenever a sense of get-up-and-go! is needed
Carry in purse briefcase or backpack to help find motivation during a long work day or study session
Features a 1:1 ratio of Inspire Uplifting Blend and NSP Carrier Oil
How It Works:
Juicy citrus and cooling mint awaken the senses while spicy undertones provide the fire needed to uplift motivate and inspire
Ingredients:
100% pure essential oils of Citrus x paradisi (Grapefruit) peel Citrus sinensis (Orange) peel Citrus x limon (Lemon) whole fruit Mentha cardiaca (Spearmint) leaf Mentha piperita (Peppermint) leaf & flower Cinnamomum zeylanicum (Cinnamon) bark Citrus x bergamia (Bergamot) peel Zingiber officinale (Ginger) root Vanilla planifolia (Vanilla) oleoresin blended in a 1:1 ratio with Natures Sunshine Carrier Oil.
Recommended Use:
Apply directly to wrists temples or back of neck as needed
5 other product in the same category